Hi guys,
Last weekend was a big deal in my house: Mike turned 30 on Saturday and then Wilbur turned two on Sunday (I can't believe my baby boy is already two!) To celebrate these momentous occasions we loaded up the car with presents and headed off to Thomas land, which is in Drayton Manor in Staffordshire. There seemed no better place to celebrate the birthday of my Thomas mad little boy!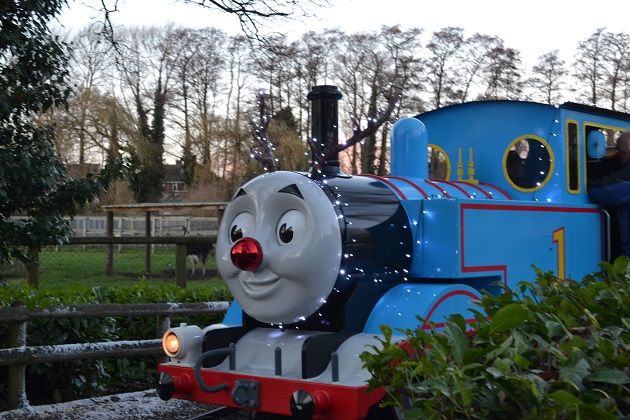 Because Wilbur has a December birthday, we were there for
the Magical Christmas event
and the whole park was beautifully festive, with lights and garlands everywhere and Christmas music being constantly piped out. It snowed several times a day and we saw the most wonderful Santa I have ever seen: he was so gentle and patient with a very shy Wilbur, who knew he wanted a present but most definitely didn't want to get too close to the big bearded man!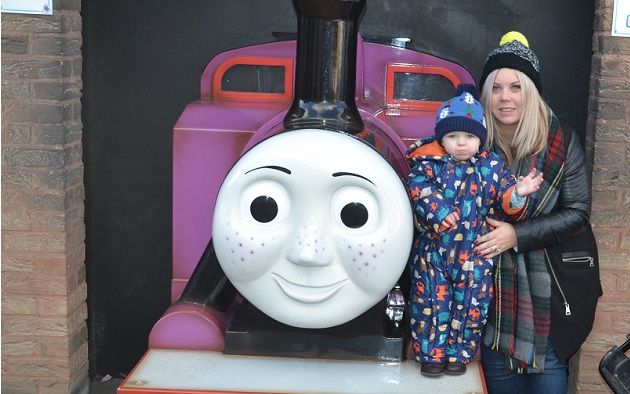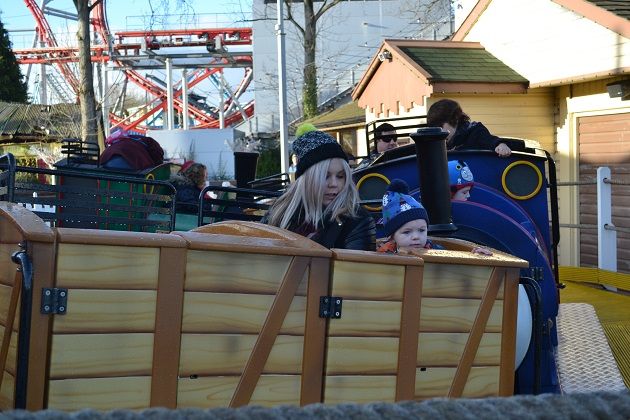 We all loved Thomasland: it looks just how you imagine the Island of Sodor would look, and every detail is accurate, from the station to the 'sodor ironworks' markings on all the tracks: I love aesthetics and attention to detail, so it really impressed me that everything was just right. Although Thomasland was the main draw for us, the park offered so much more: there was a zoo full of animals, a small dinosaur park, and plenty of other more 'grown up' rides if you're travelling with bigger kids or adrenalin seeking adults. For us though, riding Wilbur's favourite four rides in Thomas land over and over again was the order of the day! The only downside? The food. If you're travelling in the summer months though do consider packing a picnic: we had burgers that, whilst cheap, were definitely not very tasty. My husband will eat pretty much anything, and even he couldn't manage more than a couple of mouthfuls!
We stayed
in the Drayton Manor hotel
which is wonderfully Thomas themed: everywhere you turned there was another fantastically Thomas-y touch. They even had huge wooden Thomas train tables in the breakfast room and restaurant so that the little ones could play whilst they were waiting for their food to arrive (take your own wooden trains for these though, as they aren't provided). We knew this so we wrapped up a couple of wooden trains as extra birthday presents and he didn't let go of them all day, just in case another opportunity to play presented itself! As it was Wilbur's birthday we also paid a supplement (of £7.99 per person) to have a special VIP breakfast with the Fat Controller, and an extra £5.99 to have birthday balloons waiting for him in the bedroom when he arrived.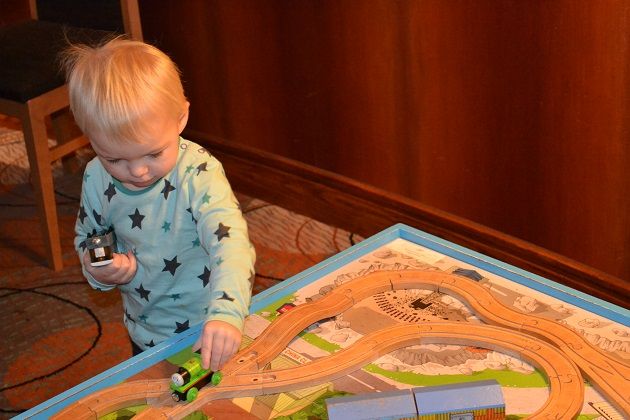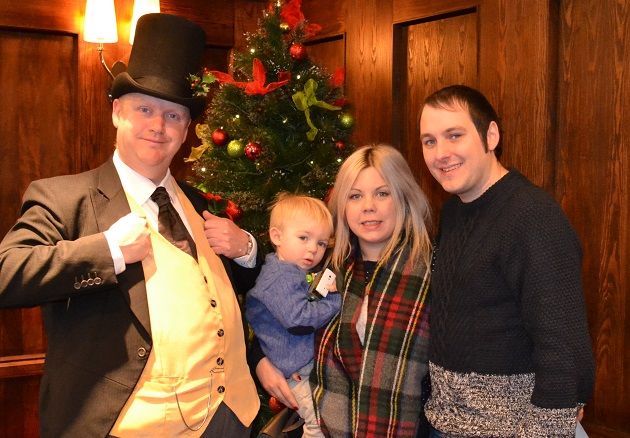 I think the hotel must have a lot of young people travelling to see them for their birthdays as they were really geared up for it and offered lots of nice little touches to make the small birthday people feel special: the fat controller even wished Wilbur a happy birthday with a friendly 'toot toot'!
Overall it was an incredible experience, and one we will definitely do again: we're already planning a day trip next Easter where we can take Wilbur's equally Thomas crazy cousin with us for double the trouble and double the fun!It was a very cold weekend in December and even when wrapped up like Eskimos we felt cold to our bones by the end of each day. But the festive atmosphere and the look on Wilbur's face when he got to meet all his favourite trains was simply priceless.
Love Tor x