Hi guys,
We're now less than two weeks away from Christmas and as I write is post I am sitting all snug and cosy looking at my Christmas tree twinkle in my Christmas pudding print onesie and my fluffy pnk slipper socks (don't judge it 'til you've tried it, my friends, for this is my definition of comfort). Mike is upstairs giving Wilbur his bath and I can hear giggling and splashing coming down the stairs. Soon he will be scooped out of the water and wrapped in a big fluffy towel before being dressed all cosy in his pajamas and slippers to come downstairs for a story and a bedtime cuddle with his mummy. We might even build a train track together, if there's time before bed. All of these things make me so happy.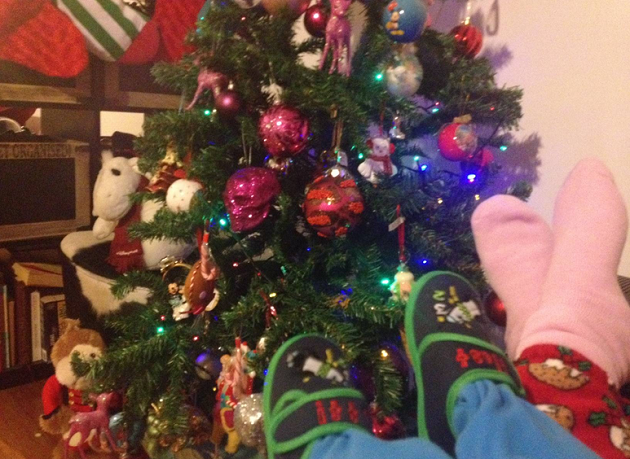 So why am I painting you this picture of domestic bliss? Because I know how lucky I am to have it. Because so many mummies don't know where they'll be putting their babies to sleep tonight, or are having to put them to bed in hostels or temporary accomodation that they don't feel safe in. Because 90,000 children in the UK are homeless right now. And at all times of the year, but especially at this time of the year, that makes me really sad.
Christmas is a time for family, and a time for being comfortable. For putting on your slippers, for snuggling under your tree, for eating too much chocolate. But mostly for knowing that you have a roof over your head where you can keep your children safe and warm. That's what Shelter's brilliant new
Slippers for Shelter
(#slippersforshelter) campaign is all about. Nothing says warmth and comfort more than your favourite slippers: putting them on is the sign that your finally home after a long day. So what better way to raise money for people without homes this Christmas than by wearing that ultimate symbol of home?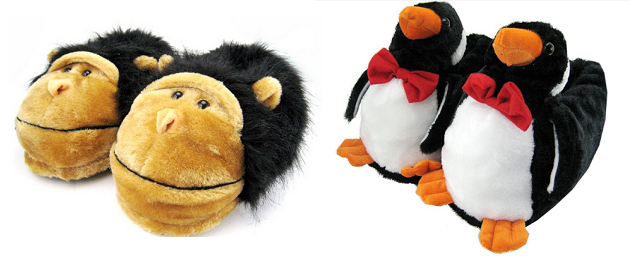 And Now For the Competition!!
Because this is all about all things slippers, I'm giving away two pairs of
Monster Slippers
: that can either be an adult and child pair (family matching is so hot right now) or two children's pairs if you'd prefer.I would choose Dick van Dyke-style penguins for myself and cheeky monkeys for Wilbur (as shown above) but you can choose any design you please: If you love oversized novelty slippers (and what's not to love) then the world is your oyster!
To enter all you have to do is head over to my twitter feed
@torbrierley
where you will find my slippers for Shelter competition tweet! Simply RT that tweet and follow
@shelterslippers
on twitter and your competition entry will be complete: it's that easy! I will announce the winner shortly after the competition closes on the 18th December.
Oh, and as well as entering the competition you can also take part in #SlippersforShelter day on the 18th December. All you have to do is wear those comfortable slippers that you love and
donate £2 to Shelter
. It's amazing the difference this will make to those 90,000 children who won't be waking up in a bed of their own this Christmas morning.
Love Tor x
And now for the science bit! Here are the Competiton Terms and Conditions:
1. No purchase necessary. 2. The closing date of this competition is 18 December 2014. 3. Only entries from 11 December to 18 December 2014 will be counted as eligible for this competition. No new RT made after this time will be considered. 4. The winner will be picked at random by Tor Brierley and will be announced on Twitter and Fab Frocks. The prize is 2 pairs of slippers from Monster Slippers 5. No cash alternative will be available and the donation is non-transferable. 6. Entrants must be aged 13 years or over and resident in England, Scotland or Wales. 7. We reserve the right to amend these rules at any time. Entry in this competition implies acceptance of these rules. 8. Fab Frocks reserves the right to remove comments which may be deemed inappropriate or offensive. 9. This promotion is in no way sponsored, endorsed or administered by, or associated with, Twitter or Blogger. By participating in this promotion you agree to a complete release of Twitter and Blogger from any claims 10. By entering this draw you agree your personal data will be used by Shelter in accordance with our data protection policy. 11. Fab Frock's interpretation of the rules and decisions are final and no correspondence will be entered in to. 12. These terms and conditions shall be governed by English law and the courts of England and Wales shall have exclusive jurisdiction.​ 13. The employees and family of Fab Frocks, Monster Slippers and Shelter are not eligible for this competition.