Hi guys,
I know it's only November, but it's time to start thinking about and (worse still!) talking about Christmas. All of my Christmas presents to be sent everywhich-way around the country to extended family are being distributed on the 30th November, meaning the usual December Christmas gift guides just come too late for me. I have to have shopped, wrapped and sent by then! I'm sure I'm not the only one that has to plan this early, so I thought I would get a head start on my Christmas posts this year!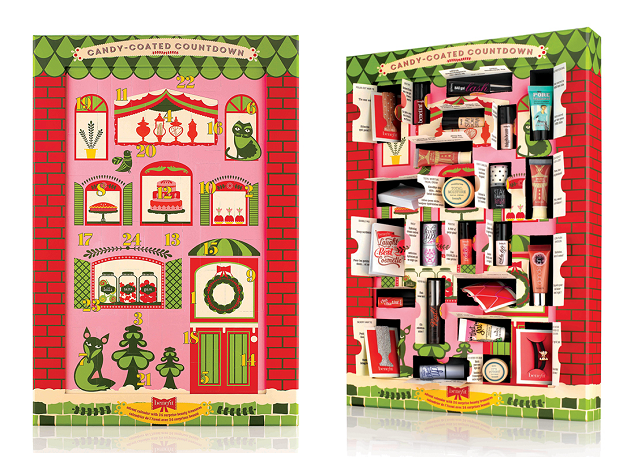 First up, on my shopping list: an advent calendar. On Saturday we popped to Debenhams to collect my Benefit advent calendar, which I ordered at the beginning of October. The theme this year is the 'Candy Coated Countdown' and the contents are:
- 0.25 oz "That gal" brightening face primer
- 0.25 oz the POREfessional pore minimizer
- 0.08 oz Benetint cheek and lip stain in Rose
- 0.08 oz High beam liquid highlighter
- 0.08 oz Chachatint lip and cheek stain in Sheer Mango
- 0.08 oz Posietint lip and cheek stain in Poppy Pink
- 0.04 oz Stay flawless foundation primer
- 0.1 oz They're real! mascara
- 0.22 oz Ultra plush lip gloss in Dandelion
- 0.22 oz Ultra plush lip gloss in A-lister
- 0.22 oz Ultra plush lip gloss in Fauxmance
- 0.14 oz BADgal lash mascara
- 0.08 oz Stay don't stray concealer and eye shadow primer in Light/Medium
- 0.1 oz Fakeup concealer in 02 Medium
- 0.1 oz It's potent! eye cream
- 0.3 oz Total moisture facial cream
- 0.08 oz Ooh la lift eye cream
- 0.08 oz Watt's up! highlighter
- Beauty sticky notes
- Doodle pad
- Heart-shaped paperclips
- Pinky, polka-dot hair tie
- Elastic hair band with bow charm
- Metallic silvery hair tie
Lots of lovely miniatures and a wonderful way to try the full range of Benefit products to help you decide which ones work (or don't work) for you and which ones you like best. I'm sure a better blogger would have opened it all up to show you what's inside, but I want to open mine each day of December in traditional advent calendar style and be surprised and delighted by each of my daily treats - I will post little updates as I open it throughout December though.
The calendar cost £60, but the goods inside rrp at £110, so it's a massive bargain really. Although it is a lot more expensive than the £2.99 chocolate calendar I usually munch on! These have sold out in most Debenhams stores, but
there are still some available
directly from the Benefit website. It sells out really fast each year though, so if you want one of the few that are left be quick: there are plenty selling on eBay for £120 already!
Have you started thinking about Christmas yet?
Love Tor x